Corey Fleischer Erases Hate.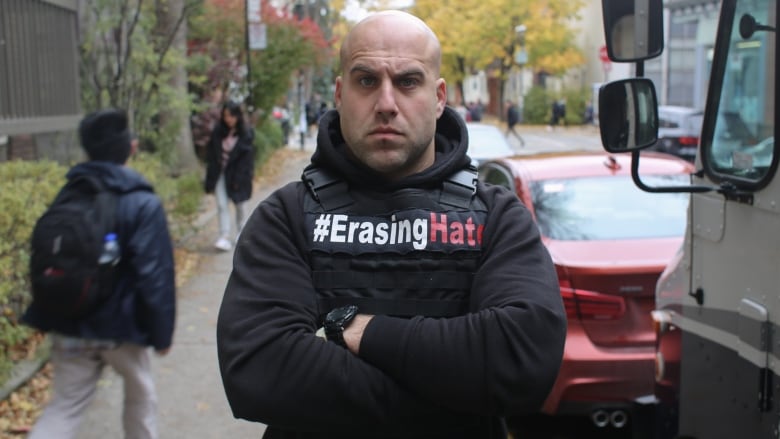 By AY Stein

In a world surrounded by hate in every corner, it would certainly be a difficult challenge to eradicate hate entirely from society, but one man hopes to slowly improve society by doing just that. Corey Fleischer is a Montreal-based power-washer and graffiti removal specialist who dedicates much of his free time to removing hate symbols and hate speech from public and private properties. Fleischer has dedicated his work to erasing hate crime and hateful graffiti around Montreal and continues to expand his mission across Canada, to encourage people to stand up against acts of hate throughout Canada. Above all else, Corey Fleischer has dedicated his skills and abilities to wash out hate crime, making him an inspiring local Canadian hero. 
Several years before Corey Fleischer began on work that would earn him an official Community Service Award from the government of Canada, Fleischer's work was inspired by a seemingly unimportant encounter that changed his life. One afternoon, as Fleischer was traveling between jobs, he spotted a rather distinct swastika overlooking one of Montreal's busy intersections. "I wish that I could say my initial reaction was to jump out of the truck and to wash out the swastika with the equipment I had in my truck," said Fleischer, in an interview with MK. "However, that wasn't what happened". Instead, Fleischer continued to drive on to his next work location, but his lack of action began to hang over his head. "Throughout the day, I kept thinking about how I could have easily removed that hate crime, and I just kept driving. With that regret hanging over my head, I sent my crew home early, and I immediately drove straight back to the location of the swastika and washed it off". That monumental move was hardly a single act of kindness, it was the inspiration that launched Fleischer's groundbreaking movement, one that now has the attention of thousands of Canadians.  
Realizing that he could make a positive change using his power-washing resources, Fleischer began to open up communication online and created a following for his new movement, titled Erasing Hate. He began to encourage followers to contact him and alert him about any hateful vandalization, which Fleischer promises he will tend to, and remove in less than twenty-four hours, completely free of charge. His movement, Erasing Hate, now has over 10,000 followers across his social media platforms and has inspired an entire movement along with him. 
"Erasing Hate is unique, and there really isn't anything like it," says Fleischer. "In all of the instances of hate crime across the city, in order to remove the hate crime, the victims need to pay out of their own pocket. Erasing Hate seeks to change that to assist the victims in an already expensive business." Not only does Fleischer put nearly all of his free time towards his movement, but he also is passionate about creating a conversation with the city of Montreal, to create awareness about hate crimes across the city. "It's important that people are aware of these issues, because only when we are aware of the issues can we pull together and try to find a solution". 
In the time since Corey Fleischer has launched Erasing Hate, Fleischer has expanded his movement to Toronto and Winnipeg and continues to expand around Canada. He has also teamed up with B'nai Brith several times to combat hate speech across Canada and some locations in the United States, and he even hopes to expand to Europe once his movement grows larger. His work has not gone unrecognized, having been featured in several Canadian news outlets across Canada, and continues to be recognized for his work. In just a short amount of time, Corey Fleischer has helped eradicate hateful ideologies and graffiti from public areas and has inspired Canadians across the country to contribute to making the world a better place.
Corey Fleischer's work has also brought attention to some of the issues underlying hate crime that many have overlooked. In one instance, a married couple targeted with anti-Semitic graffiti on their car were told by police that their issue would not be the subject of a police report, and their case was not of enough importance for the police to pursue. Learning about the event of the hate crime through his social media platforms, Corey quickly arrived at the scene to assist the couple with cleaning the hateful message from off their car. He also later used his platform, Erasing Hate, to criticize the police for disregarding a serious issue of hate crime. The next day, the police saw the video online, and reached out to Fleischer and the couple to apologize and immediately opened up a report on the issue. Erasing Hate has not only successfully erased hateful messages, it began a discussion amongst social groups and brought this highly important issue to the forefront as something we all need to focus our attention towards. 
Corey Fleischer is honored by the attention his movement has received in the time since he launched Erasing Hate. "I'm so glad that this small movement has inspired so many people to take a stand against hate crime," Fleischer says. "I'm also that so many Canadians see this as an important cause to stand behind". Through his phenomenal work, Fleischer was awarded an honorary Community Service Award from the Canadian government and continues to be an inspirational figure in the battle against hate crime. 
Growing up, Fleischer initially felt little connection to Judaism, but hopes to change that through his work with his new movement. "Growing up, I did not have any connection to Judaism, nor did I know about events like the Holocaust," Fleischer explains. But, with Erasing Hate holding the attention of thousands of followers across North America, he proudly displays his Jewish pride and hopes to educate others in the process. He also hosts educational events in schools across the country, to share his work with Canada's youth and educate them about Jewish identity and hate crime. Through his dedication to his work, Fleischer is leaving an educational impact across the country. 
While he remains active in this fight against hate, Corey reminds everyone that he could not lead this monumental movement if not for the support and assistance he gets from his many followers and fans. "None of this would be possible if it weren't for the countless supporters who inform me of hate crime instances, and the outpouring of support I've gotten for my work with Erasing Hate". He reminds MK readers and Erasing Hate followers that should they come across an instance of hate crime or anti-Semitism, they should be sure to report it to police. In instances in which hate speech has been graffitied and spray-painted, one should also be sure to get in contact with Corey through his social media platforms, and he promises to have it removed within twenty-four hours, free of charge. 
Through his monumental work, Corey Fleischer proves that it doesn't take political power or recognition to take a stand against this important issue. Corey teaches us that when we spot an issue in society, we can all use our own unique talents and abilities to make a difference about it. He shows that anyone can take a proper stand and show that hate crime has no place in Canadian society. Sometimes, all it takes is a power washer and a little bit of determination.