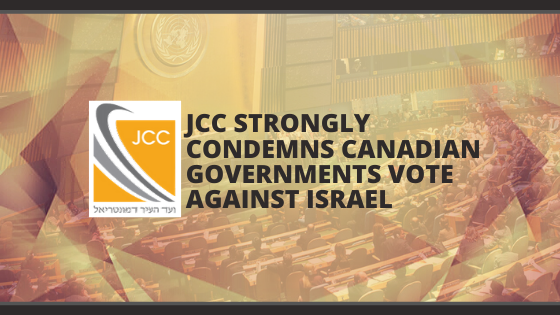 In Israel during the past few weeks, Jewish men, women and children have had to live with missiles and rockets raining down on them, forcing them to sleep in their safe rooms for days at a time. Schools have closed, work has stopped, and Israel's economy has taken a blow.
In this tense atmosphere, Canada has stunned the world and Israel's allies and voted in favor of a resolution co-sponsored by North Korea, Zimbabwe and the PLO, criticizing Israel and their presence in Jerusalem.
This is the first time in ten years that Canada has voted with dictatorships like North Korea and the PLO.
The Canadian government did not even make mention, let alone condemn the rocket fire and terrorist attacks by people who seek nothing less than the total destruction of Israel.
The Jewish Community Council of Montreal expresses its deep and profound disappointment by our government on this vote.